FREE BOOKS! Limited time only!
Jesus already did the heavy lifting –
You can share the good news FREE with these books –

just pay shipping!
CHRISTIAN APOLOGETICS
ANSWERING QUESTIONS PEOPLE ASK ABOUT CHRISTIANITY
GOD IS LIGHT
God is Light Study Guide
GOD'S GREEN LINIMENT
LET'S TALK ABOUT YOUR WEDDING AND MARRIAGE
ONE HUNDRED YEARS OF MINISTRY
SEVEN STRONG REASONS WHY YOU SHOULD BELIEVE IN JESUS
SO YOU WANT TO STUDY THE BIBLE
THE MAJOR THEMES OF THE BIBLE
THE SCROLL WITH SEVEN SEALS
WHY ARE THESE PRESBYTERIAN CHURCHES GROWING?
We are offering a special selection of
books published by Green Leaf Press,
absolutely F.R.E.E…
Yes, Free!
As a loyal follower, we are giving
these fine books away to bless and
remind you of the unconditional love
and saving grace of our Lord and Savior,
Jesus Christ. He did the heavy lifting.
What a great way to bless your friends
and family, with the true meaning of 
Christmas, as you share with them.
They can be shipped anywhere in the domestic United States.
Many are authored by GLP's founder,
Dr. Foster H. Shannon, himself! 
Requests will be fulfilled on a
first-come, first-served basis.
–>Review the book list below:
selections and quantities.
—> You will then receive an email with the shipping amount at the reduced flat fee structure noted below. 
>- After you donate the cost of mailing, the books will be shipped out.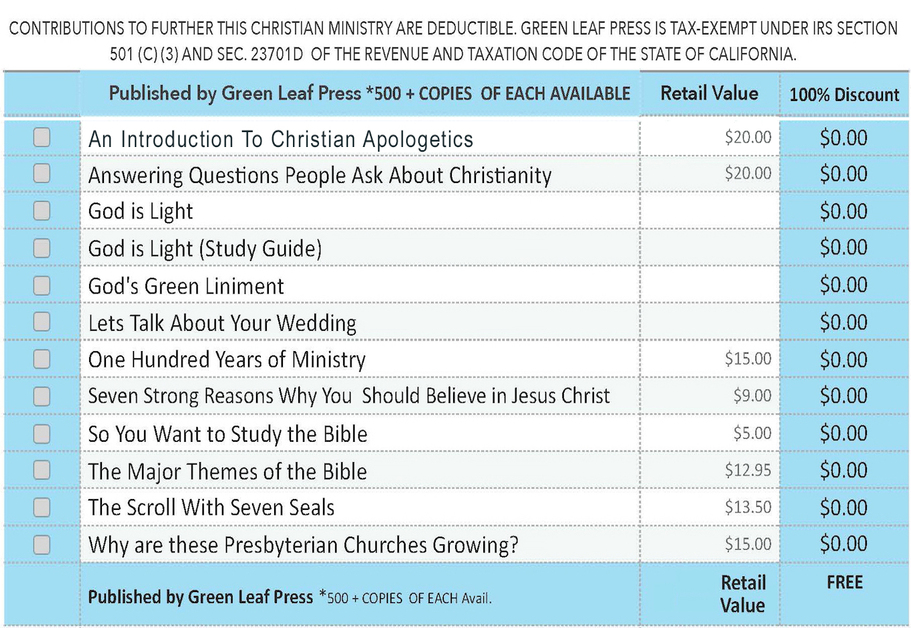 Shipping via USPO Library Mail
Please see a video review of several of the books
We pray that God will bless, encourage and equip you as you share your faith with others.
Thank you for your support.
*Make it easy on yourself.
FILL OUT THE FORM BELOW, and one of our team members will get back to you right away with the shipping cost and availability of the books you have selected!